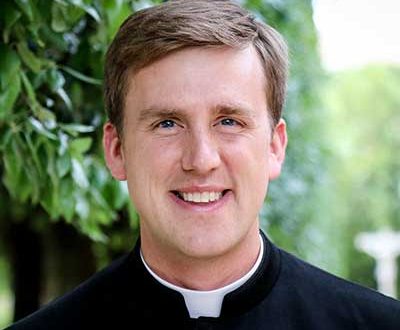 Taste and See the Goodness of the Lord
               In the final years of my formation for the priesthood, I came to appreciate the psalms a lot more. I began to realize how each psalm expresses something very beautiful about the relationship between God and the soul. And Psalm 34 began to have a very special meaning for me when I went through what was probably my most difficult moment so far in my vocation. Only God knows what challenges still remain to be faced, but I trust that what He has taught me so far will guide me in the new challenges, and I am sure that He will be there to strengthen me.
The Legion of Christ went through a great crisis over the last ten years and so we can't think that those moments of suffering would not have their effect on those of us going through our period of formation. And it would have be wrong if it were not hard for us. Personally, I think what affected me the most was that the crisis of the Legion and the deception of our founder left me very indifferent towards the pursuit of holiness. I still believed in my call but I felt like there was no real possibility of being a saint and I would just have to try to be a decent priest and stay out of trouble. And this mediocrity really started to take over my heart. I managed to get by for several years like this, but my spiritual life kept slipping further away and I kept becoming more and more indifferent to sin and weakness in my own life, and more content with just getting along. I have to say that I experienced many moments when I felt Christ speaking to my soul once again and inviting me to be more generous but I held back. I tried to be a good brother to my fellow legionaries and that was about it.
Then there came a moment of conversion. During month-long spiritual exercises God touched me in a very powerful way. I realized then that for years I had been slowly pushing Him out of my heart. Once again I made the decision that I wanted to seek after holiness. And I felt great peace in that God was calling me to seek after that holiness in the Legion. But that meant that there was a lot of hard work to be done, to combat bad habits that had accumulated over the years. It is kind of hard to explain the change within me on an external level, because it was a change of attitude more than anything else. I had always felt the call to follow Christ but I had been responding to it in a half-hearted way at the best of times. Now, I was once again trying to be sincere in my surrender.
And as I began to make the effort once again to seek sincerely after holiness, I started to realize more and more the fidelity and goodness of the Lord.  How He had constantly been seeking after me all the years of my formation, though I had so often rejected Him or only answered His calls to love in a mediocre way.  But I still didn't realize the extent to which all those years had caused my heart to harden and become indifferent.
Then the Lord surprised me. Our General Director asked me to wait another year for ordination because he didn't think I was ready yet. And it hit me hard because I felt like I had made so much progress in the year since I had done month-long spiritual exercises and that how could God be asking me this now, when I was finally being generous with Him. It made me think a lot. Sure, I realized that I was not perfect and that I had a lot of faults but I felt like things were on the right track and since my other superiors hadn't told me to wait I felt very confused. It made me think and pray a lot. But I didn't know what to do. I started to think that maybe the Lord was trying to tell me that I wasn't called to this life and that I had just kind of coasted along to where I was now, but at the same time, I felt certain that in so many moments the Lord had indeed been calling me. I was confused and didn't know what to do. Thankfully, Fr Eduardo had offered me the opportunity to do a year of internship somewhere so I decided to do that. I was still worried and not sure what was going to happen in the long run. But I felt that in the end, if I could be obedient and trust, then God would show me in a clear way what it was that He was calling me to. So it was decided that I would go to do a year of apostolic internship and ECYD work in a school in Mexico City.
Before I left Europe for Mexico though, God had another big surprise for me. It worked out that I was given a place explaining the Shroud of Turin in the World Youth Day in Krakow, Poland. And that trip changed everything. I had a very powerful experience of God and I am 100% sure it was due to the intercession of St. John Paul II. I basically spent the whole week of the World Youth Day giving tours of an exhibit on the Shroud of Turin to young people in the basement of the St. John Paul II shrine there in Krakow. That was very powerful enough, meditating on the most realistic representation of Christ's passion with enthusiastic young people from around the world but there was more to come. I gradually learned more about the shrine and was amazed to find out that it was built on the same location where young Karol Wojtyla had worked in forced manual labor during the Nazi occupation. Then, on the Saturday morning before the vigil, I attended the mass that Pope Francis celebrated there at the shrine for Polish seminarians and religious. That experience overwhelmed me. As I participated in that mass, in the very place where 75 years before a young man had worked, prayed, and suffered, where the forces of evil had gathered trying to destroy the Polish people and their faith, where now, I was in the midst of a World Youth Day, inaugurated by the very same young man, united now in prayer with the Pope and the strength of the Polish Church, I finally understood a little bit of how God works. It was a very concrete experience of the Passion and Resurrection that the Church is always called to live together with her Lord and which each of us must experience in our own lives. It just overwhelmed me and I cried there. God was telling me that He was indeed all-powerful and that He can bring tremendous good out of the ruins of a nation, of a civilization, and of a life.
That is probably the most important experience of my life to this day. I learned so clearly that day that God has His own mysterious way to work in our lives. Not all my doubts were cleared away, I still felt nervous about the upcoming year and what God was really asking of me in my life, but I then knew without a doubt that God would be able to bring a great good out of whatever ruins I had made of my own life through my sins and mediocrity and indifference.
And so I arrived to Mexico City where I am completely sure that I lived under the motherly care of Our Lady of Guadalupe. She had to have been watching my every step. St. John Paul had taught me a lesson and now I had to live out his priceless advice and motto, Totus Tuus Ego Sum Maria. The year went by quickly, but was very intensely full of graces and blessings.  Many good and holy people came into my life that year and helped me to understand that God was still calling me. I felt at peace and very blessed. My decision in my vocation was strengthened and more importantly my desire for holiness continued to grow. When I went back to Rome to finish theology I arrived with a lot of peace in my heart and happiness with God´s call. And when I arrived to Rome, my superior invited me to go Medjugorje for a theology of the body course with Amor Seguro. And really it felt to me like this experience became a summary for me of all that God had been doing in my life. I felt so close to the Blessed Virgin and she helped me to see how God and her had been leading me and patiently following after me, knocking at my heart all through the years and always gently asking to come in. It was an invitation to return once again to that first love which had captivated me when I was younger, but which I had let grow old.
This last year of formation in Rome would be very incomplete without mentioning Br Anthony Freeman. I can´t really tell the whole story here, but losing a companion, friend, and brother just a couple months before ordination changes the way you see a lot of things. Br Anthony´s desire for holiness was very great. He was so full of love for God and for souls and for his priesthood. His book, One Step Closer, is a testimony to this. I didn´t read it until after his death and I cried as I read it, because his love and intense desire for God can be seen on each page. And it seemed to me that he had been able to keep his first love for his vocation alive and intact until the end, and in the light of my own spiritual journey, this meant a lot for me. I know that God put Br Anthony into our lives to teach us and now from heaven to intercede for us.
And now, on the eve of ordination, the words of Psalm 34, "Taste and see the goodness of the Lord" take on deeper meaning and synthesize my entire life. These words explain how God has worked in my life over the past 33 years. There have been so many graces and gifts that I cannot ever even begin to tell of them all. These words express what is in my heart as I experience the joy of my diaconate and the upcoming priesthood. And finally, these words are a promise to me of what the future holds. There will be challenges and difficulties but I trust that the Lord's goodness will always be there.  The words of the psalmist capture this reality. God is always faithful.  I am sure this is not just true in my life, but in the life of every person.  If you have read this vocation story to the end, I thank you and ask you for your prayers for me that I may be faithful to God´s call.
###
               El P. John Paul Studer nació el 20 de abril de 1986 en Houston, TX. Fue miembro del ECYD y alumno de Pinecrest Academy en Atlanta, GA. Entró con 12 años a la apostólica de Center Harbor, NH. Terminando la preparatoria allí entró al noviciado en Cheshire, CT en 2003. Hizo noviciado, dos años de humanidades y luego tres años de prácticas apostólicas como asistente de humanistas allí en Cheshire. Estudió filosofía y teología en Roma de 2010 hasta 2016 cuando hizo un año de practicas en el Instituto Highlands en la Ciudad de México. Regresó a Roma para terminar teología y fue ordenado diácono el 7 de julio de 2018. Actualmente es capellán del Instituto Highlands en la Ciudad de México.